Products
Installations
Durable Awnings and Canopies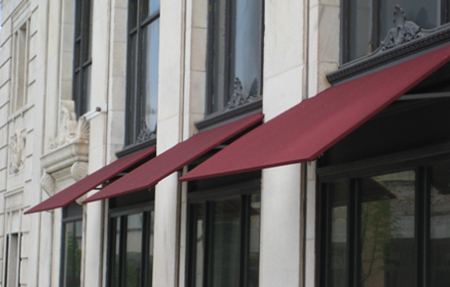 Looking for the perfect way to enhance your home or business? From elegant, attractive designs for your home to eye-catching commercial awnings that beckon customers to your entrance, Godske Awning & Textiles, Inc. has a solution that is just right for you. We offer a variety of high-quality aluminum, canvas, and vinyl options for you to choose from.
Have a unique window or entrance that requires a little more attention to detail than basic awnings that can be ordered from a catalogue? Our team of professionals is completely dedicated to beautifying your space so we offer custom designs and installation. We offer a variety of other services too like awning storage, canopy repair, and we even rent tents!
Awnings and canopies
Backyard deck and gazebo canopies
Boat covers
Swing covers

Umbrellas
Flat pan roofs
Industrial production
Personalized graphics
---
Custom Installations
The Right Awning for your Property

Simplify your search for the perfect awning or canopy for your home or business by taking a look at the various styles we offer. Because each space is unique, our experts can custom design, construct, and install nearly anything you can imagine!
When selecting an awning or canopy system, you will want to consider the following elements:
Purpose
Basic or custom style
Configuration
Color

Size and fit
Safety, both egress and fire
Stability
Strength

Anchorage
Drainage
Graphics
Fixed or movable
Although valances come in many different options, there are 3 main choices:
A valance is a decorative addition to any canopy or awning and drops down from the rim of the canopy. Often they have ruffles or curved edges.
Loose valances that flap in the breeze; usually seen on residential windows.
Hard, fixed valances with metal framework. The framework provides a surface we can put your logo or other graphics on.
No valance.
Contact the experts today or see our galleries!
---